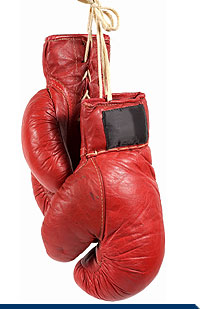 Choosing Your Right Boxing Glove Size and Handwraps

When picking out a pair of boxing gloves, choosing one that best fits your hand is not exactly the right criteria you should follow. Try putting on handwraps underneath the gloves. 120" handwraps are right for small hands. For medium to large hands, you will want 170" or longer.

Why bother with handwraps?
When boxing, you will need to support your wrist and thum to protect your bones and tendons from injury. It is important that you always wrap your hands before working out or boxing.

BOXING FOR BETTER HEALTH: Do you want the strength of undefeated boxer Laila Ali or the body of heavyweight champion Lennox Lewis? [ More ]

A KNOCKOUT WORKOUT: Here's how you can do it at home. [ More ]
Women's Boxing News

Boxing: JANE'S NO COUCH POTATO
Sunday Mirror, Jul 17, 2005 by DERICK ALLSOP

JANE COUCH aims to capitalise on Britain's boxing boom to boost women's standing in the sport.

The country's best known female boxer takes on one of her biggest ever challenges when she fights Jessica Razocky for the WBC lightweight title in California on Thursday.

Couch admits she is up against it but believes Ricky Hatton's thrilling victory against Kostya Tszyu last month will inspire her. She said: "Ricky's win was the best thing that could have happened for British boxing and I'd like to think I could do the same for women's boxing.

"We are both ordinary, straight talking Northerners and I fight with the same determination as Ricky. He was the underdog against Tszyu and I'm the underdog, so hopefully I will get the same result."

Couch, who hails from Fleetwood but trains with an all-male stable in Bristol, wants women's boxing to be part of ITV's new coverage.

She said: "It's great that boxing is back on ITV. I hope we can get them to put women's boxing on as well."

Copyright 2022 MGN LTD
Provided by ProQuest Information and Learning Company. All rights Reserved.