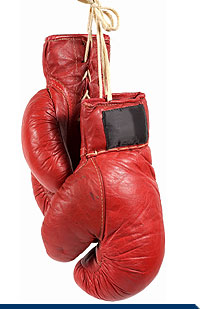 Choosing Your Right Boxing Glove Size and Handwraps

When picking out a pair of boxing gloves, choosing one that best fits your hand is not exactly the right criteria you should follow. Try putting on handwraps underneath the gloves. 120" handwraps are right for small hands. For medium to large hands, you will want 170" or longer.

Why bother with handwraps?
When boxing, you will need to support your wrist and thum to protect your bones and tendons from injury. It is important that you always wrap your hands before working out or boxing.

BOXING FOR BETTER HEALTH: Do you want the strength of undefeated boxer Laila Ali or the body of heavyweight champion Lennox Lewis? [ More ]

A KNOCKOUT WORKOUT: Here's how you can do it at home. [ More ]
Women's Boxing News

Boxing: The gentle touch? Not likely from Amanda
Independent on Sunday, The, May 8, 2005 by Alan Hubbard reports



The blockbuster movie Million Dollar Baby has done the rounds and raised the profile of women's boxing, but with it come a few questions about whether it really is the sort of thing you would want your daughter or girlfriend to get up to. Amanda Coulson's mum and boyfriend have no such qualms, and today they will be cheering her on as she sets out on her quest to become the first Briton to win a title in the European Female Amateur Championships.

Tonsberg in Norway is a long way from Las Vegas, which hosted its first big fight exactly 50 years ago last week and was the setting for the fistic climax of the Oscar-winning performance by Hilary Swank as the ill-fated wannabe Maggie Fitzgerald. Did Coulson see the film? 'Of course, and I enjoyed it even though the boxing scenes were a bit unreal,' she says. 'You never see punches thrown like that, but then it was a film. Yes, the ending was sad [Fitzgerald dies when her life-support machine is switched off by her manager, played by Clint Eastwood] but even so I think it gave the sport some much-needed publicity.'

Coulson, a 22-year-old from Hartlepool, is equally unfazed by the reality which tragically coincided with the release of the film here, the first death of a female boxer, Becky Zerlentes, 34, who never regained consciousness after a blow to the head in Denver. 'Obviously injuries and sometimes deaths happen in the sport, but hopefully this was just a one-off for women's boxing. But because it is the sport I am in and a female was involved, people are asking questions. It certainly has not put me off. I doubt if there is a sport played today where there isn't a risk, and ours is rigidly controlled, both from the medical and safety aspects.'

Coulson is rated Britain's best female amateur boxer, having won 16 of her 19 bouts. She would not pretend to be another Laila Ali, who has inherited her old man's looks and a semblance of his skill but, like Laila, she has the mien more of a model than a mauler.

She admits: 'Yes, I am nervous every time I get in the ring, right up until the bell goes. I think to myself, 'What the hell am I doing here?' But then it's just you and your opponent and you don't worry about anything else.'

Coulson, a light-welterweight who boxes for the Hartlepool Catholic Police Community Club, travels to Norway with three other Britons: Tina O'Dell from Birmingham, Derby's Zoe Rafferty and fellow-international Nicola Adams, a perky 22-year-old Leeds dispatch clerk who says that in 15 bouts she has not even had a busted lip.

But it is on the stylish Coulson that Euro hopes are pinned. She says she first got the gumshield between her teeth as a 13-year- old. 'I've always been a bit of a tomboy and liked competing in male- dominated sports, but what attracted me to boxing was when I read a report in a local newspaper about two other 13-year-olds who were to be the first females to take part in a bout in England. I thought, 'I wouldn't mind a crack at that', but I didn't really know where to start, so I thumbed through the Yellow Pages looking for a club that would take women. Finally I found one, a local boys' club that was run by the police. They welcomed me and that was it. I was hooked.'

She now works for the police as a communications officer, answering 999 calls, and fits her roadwork and gym training between her shifts.

At college she studied sports science and intended going to university, but this plan was abandoned when her father died of a brain tumour four years ago. Now her mother and her boyfriend Ross, a former bodybuilder, are her biggest fans.

Fisticuffs and the fair sex have been going hand in glove for a decade or more now, but it is only recently that Britain has discovered a few hits among the Ms's. There are around 200 ladies who punch, though most are novices like Laura Saperstein, an Australian who sparred with Coulson at Crystal Palace recently. An ex-surfer and TV news reporter, Saperstein admits to a latent fascination with the fight game and argues: 'The will to fight is ingrained in all of us, man or woman.' She won her first novice tournament in Sweden last month and recalls: 'My opening bout lasted one minute. The other girl got a standing count from a body shot, started crying and refused to come back out.'

A crying game or a crying shame? Neither, says the Amateur Boxing Association's performance director, Terry Edwards: 'My attitude has certainly changed. I saw my first female competition about 10 years ago, and it was a bit like 'handbags at 10 paces', but not any more. It has come on tremendously, but in this country we have been a bit behind in the evolution process.

'Now we are trying to get them some funding, and we will certainly incorporate women far more into our regular training camps at national level. One of the things we need to eliminate is the male chauvinistic attitude " you know, we like our women to be feminine. But there is no reason why they can't be and still box. Amanda proves that.'

Coulson says she has no intention of becoming the next Jane Couch, Britain's leading professional, aka the Fleetwood Assassin, who once flattened a bloke in a Blackpool bar when he patted her bottom. Much as she admires Couch, she would much rather be a female Amir Khan, and win an Olympic medal.

After the Europeans she will box in the ABA Female Championships at Aldershot on 20 May, and later hopes to be in Beijing in 2008, when women's boxing will be an exhibition sport. 'In 2012 it could be the real McCoy and, fingers crossed, I would love to box in those Games, especially if they are in London.' It wasn't so long ago that a woman's place in the boxing ring was pouting, not clouting, parading with the round cards. You've come a long way, Million Dollar Baby.

Copyright 2023 Independent Newspapers UK Limited
Provided by ProQuest Information and Learning Company. All rights Reserved.